Careers
A TRADE FACILITATOR, A TRADE REGULATOR AND A LAW ENFORCER
Singapore leverages on its geographical location and global connectivity to trade with many countries in the world across a wide range of goods and services. Trade and connectivity are of paramount importance, especially with Singapore being a globally oriented and open economy.
Singapore Customs advances Singapore's economic development by protecting revenue and making trade easy, fair and secure.
We protect revenue
that is invested in the progress and well-being of our Singapore community, making Singapore a better place today and for tomorrow.
We make trade easy, fair and secure
by maintaining Singapore's status as a global trading hub while ensuring the integrity of the trading system.
Ways the ONECUSTOMS team makes a difference:
Our role as a Trade Facilitator: We facilitate customs connectivity across borders for a seamless and resilient end-to-end international supply chain and work closely with local and international partners to advance Singapore's economy. For example, through Free Trade Agreements (FTAs), we work with our FTA partners to reduce trade barriers, enable faster and efficient clearance of goods, and provide for preferential tariff treatment for Singapore origin goods. Through Digital Economy Agreements (DEAs) and other bilateral agreements, we connect digitally to other Customs administrations to exchange data and digital documents, providing time and cost savings to companies.

Our role as a Trade Regulator: We uphold the rules of trade and tariffs and keep a close watch on strategic goods and technologies to maintain an effective and robust regulatory regime. In doing so, we contribute to international efforts to prevent the proliferation of arms, missiles and weapons of mass destruction and safeguard Singapore's reputation as a global trade hub trusted by foreign trading partners and businesses. We maintain a robust duty and tax collection regime, that contributes about close to 15% of total government annual tax revenue, hence contributing to nation building.

Our role as a Law Enforcer: Adopting a whole-of-government approach, we protect Singapore's revenue and level the playing field for law-abiding businesses by working closely with other agencies to enforce against revenue-related and trade offences. We also contribute to efforts to safeguard the integrity and security of the global supply chain by partnering regional and international counterparts to enforce against different types of illicit trade.
In Singapore Customs, we work, play, learn and grow together as ONECUSTOMS team.
YOU CAN BE A PART OF THE ONECUSTOMS TEAM!
Singapore Customs offers a unique career for aspiring individuals. We operate under the Ministry of Finance and is the lead Government agency responsible for customs matters. Singapore Customs is a key partner to the trading community as well as various agencies in advancing Singapore's economy.
We have diverse roles in Singapore Customs unified through a common mission to protect revenue, and make trade easy, fair and secure. As part of the ONECUSTOMS team, you will have the opportunity to take on different roles – a Trade Facilitator, a Trade Regulator, and a Law Enforcer.
UNIFIED CAREER TRACK FOR ONECUSTOMS
Whether you are a graduate or non-graduate officer, you can look forward to seamless advancement opportunities with our integrated grade structure under the Customs Unified Scheme of Service (CUS). All officers will have equal opportunities for career advancement and development.
You are a captain of your own career! To maximise your career fitness, you are empowered to take charge of your career development through personal and professional learning, as well as embracing work challenges. The ONECUSTOMS team will partner you to reach your full potential.
We will equip you with both specialist knowledge as well as a broad-based understanding of our strategic operating domains.
You can expect a structured onboarding and training programme for the ONECUSTOMS team, comprising experiential on the job learning, social learning, and courses. Training is also tailored to the different job roles within Customs, such as the Customs Defensive Tactics Course for our enforcement officers and the Customs Export Threat Assessment Training for our export inspection officers.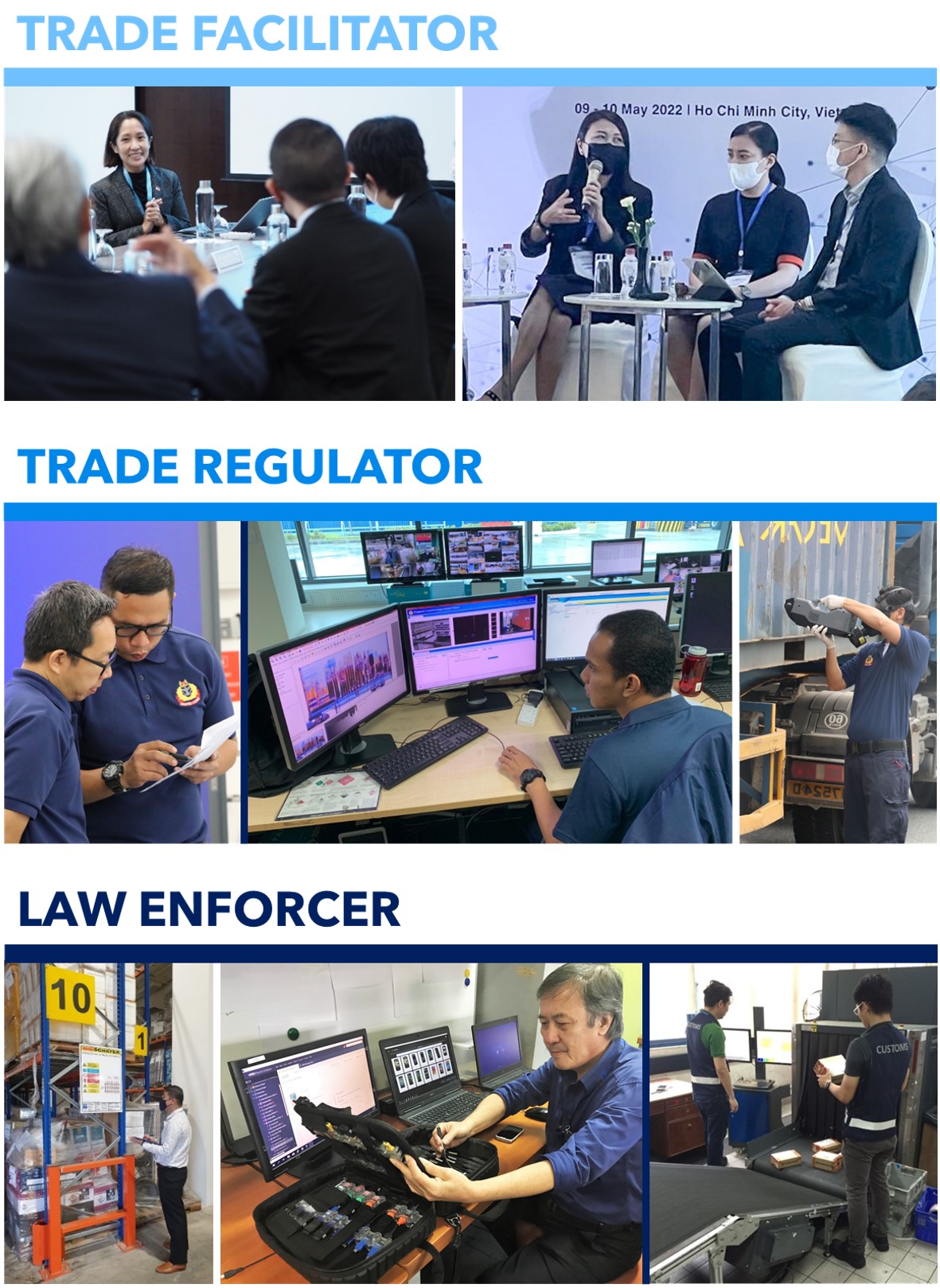 With regular job rotations under our Managed Posting System that offer many opportunities for competency and skills development, you get exposure to our various Customs functions ranging from trade facilitation, regulation and compliance, enforcement as well as policy work.
Developing the core competencies, functional skills, Whole-of-Government mindset and specialist knowledge – All of these are what you will be signing up for as part of an enriching professional career in Singapore Customs.
No matter what your role is, the impact of your contributions count.
We have a structured career development roadmap to nurture you as a professional Customs officer.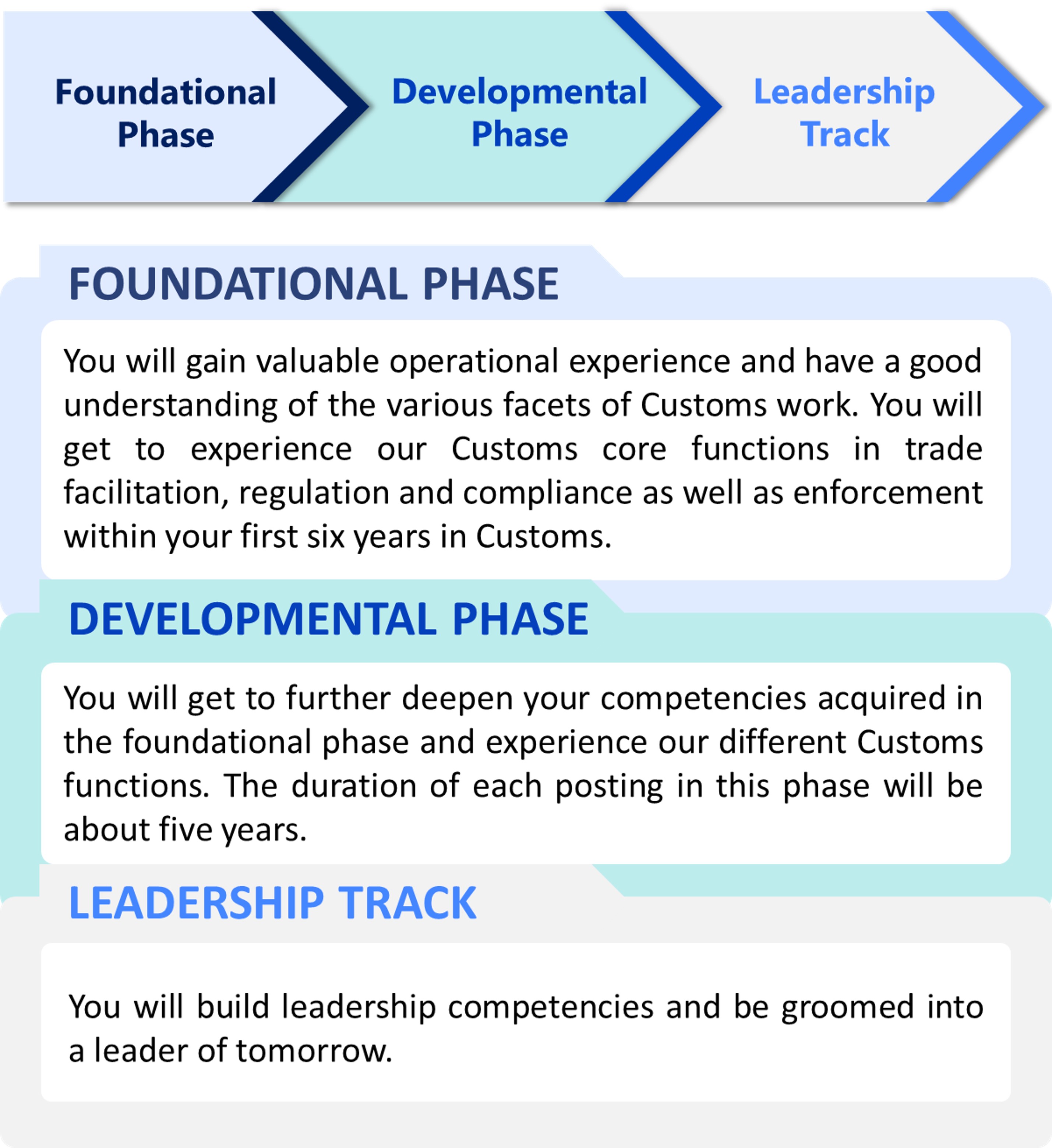 SIGN-ON BONUS
Eligible officers who are newly appointed to the Public Service and Singapore Customs will receive a sign-on bonus of $8,000 paid in two tranches.
RETENTION BONUS
You will also receive attractive retention pay-outs in your 4th, 7th, and 10th year in service.
STARTING SALARY

*Starting monthly salary may vary based on a holistic assessment of academic qualifications, relevant work experience and completion of full-time National Service.
BENEFITS
You will enjoy a host of benefits including:
14 to 18 days of annual Vacation Leave
60 days of annual Hospitalisation Leave (inclusive of 14 days of Sick Leave)
Subsidised medical and dental fees
Training and Personal Development Fund
Long Service Recognition
Staff Recognition and Training Awards
LOCATIONS WHERE YOU CAN FIND US: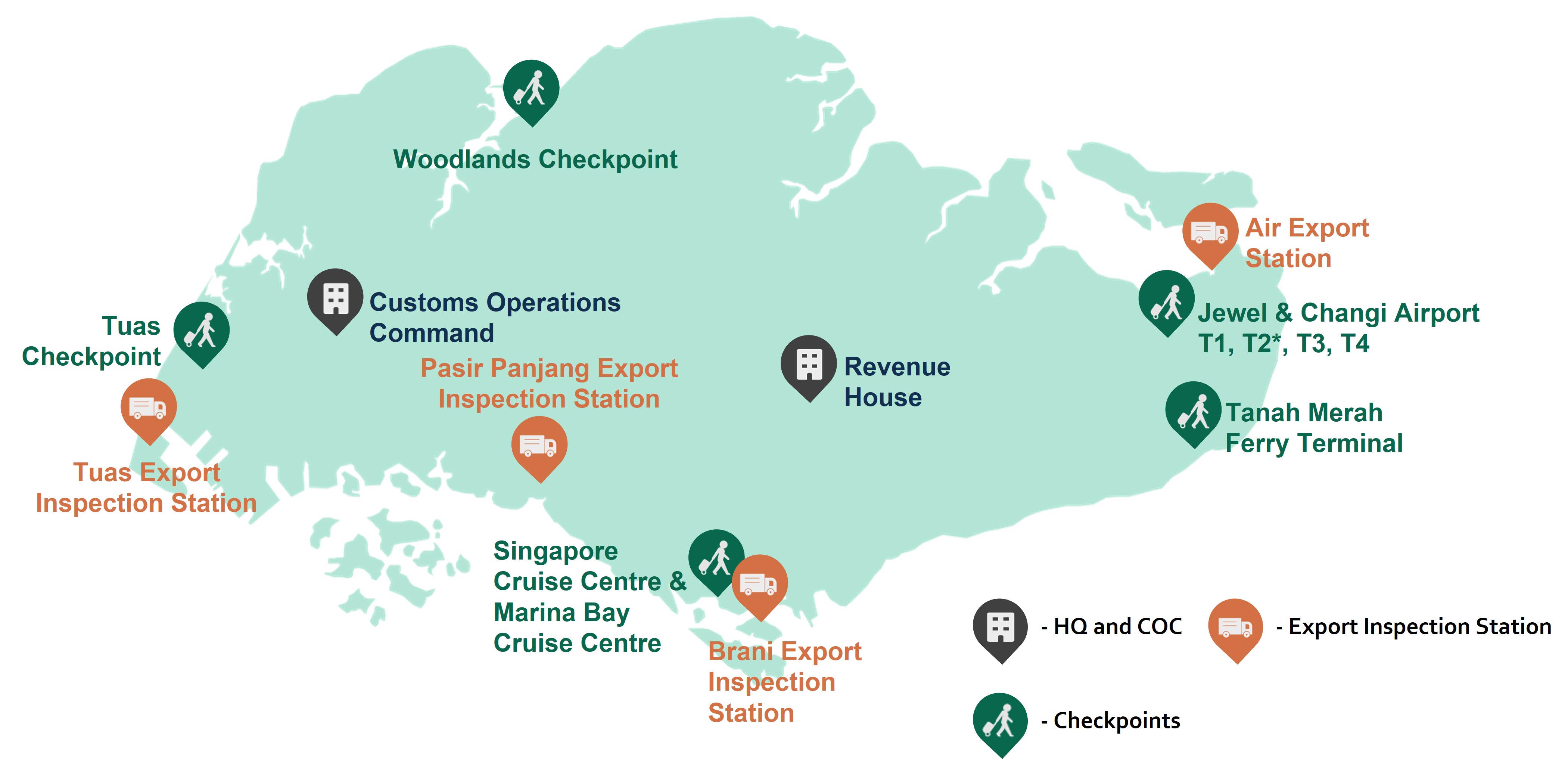 MAKE YOUR MARK BY JOINING THE ONECUSTOMS TEAM
If our mission energises you, join the ONECUSTOMS team and help to define it. Kickstart your career with us today: Careers@Gov